"Sir Ernest Shackleton's name will for evermore be engraved with letters of fire in the history of Antarctic Exploration. Courage and willpower can make miracles. I know of no better example that what that man has accomplished."
— Roald Amundsen, The South Pole
Sir Ernest Henry Shackleton CVO, OBE [1874 - 1922]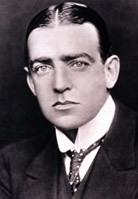 Sir Ernest Shackleton was a British Antarctic explorer and expedition leader. He was knighted by King George VII for his leadership of the "British Antarctic Expedition" of 1907 to 1909. He was born in Ireland and after a rather basic education joined the merchant marine and learned the seamanship and leadership skills travelling the world.
Shackleton along with Amundsen and Scott were the important explorers of the golden age of Antarctic Exploration. He certainly was an expedition leader who had the ability to rise to the challenges presented him in the field and make tough life-saving decisions. Many of which were hard decisions like turning back short of fame and fortune.
He is best remembered now for his "Endurance Expedition" of 1914 to 1916. His life reveals a man driven both to travel and exploration. He constantly pushed himself forth to greater challenges and refused to settle down for any length of time.
"After the conquest of the South Pole by Amundsen, who, by a narrow margin of days only, was in advance of the British Expedition under Scott, there remained but one great main object of Antarctic journeyings — the crossing of the South Polar continent from sea to sea."
— Sir Ernest Shackleton, South
The Endurance Expedition, although considered by some to have technically been a failure because it neither reached the South Pole or crossed Antarctica has become known as "The Shackleton Expedition". His extraordinary leadership, seamanship, and survival skills he and his expedition members practiced are still studied today.
His ship the Endurance became locked in the ice before even reaching the coast. It was trapped and eventually crushed by shifting pack ice. Seeing the end in-site for the ship he ordered it abandoned and over various trips to the ship salvaged whatever would be useful for the survival of the expedition.
He quickly set up camp on the pack ice and set his men to work preparing to survive for an extended stay. Shackleton and his 27 men lived on the limited provisions taken from the ship's stores and a diet of mostly penguins and seals for over a year.

Shackleton moved the expedition hopping on the ice to find the open sea. This helped to help keep the men busy and working towards their own rescue. When the ice pack finally began to break up, they set sail in their three lifeboats. After a dangerous voyage in the South Atlantic, they made landfall at Elephant Island and set up a makeshift camp.
Shackleton next took five men and set out once again by boat. This time in the re-rigged "James Cairn" a small but sea worth partially open boat. They then sailed an 800-mile trip across the open ocean to the shore of South Georgia. This feat of seamanship, leadership, and ocean navigation was absolutely extraordinary. From there he set out with two companions and made an incredible 36-hour crossing of mountainous South Georgia with only 50 feet of rope and a carpenter adze.
Shackleton gained his men's confidence and they followed him through very tough circumstances. He was a leader who valued his men's lives far above the victory of planting a flag or gaining fame. He took the time to learn about his men and discover how to best motivate them. He broke down class barriers within his very British class structured crew. He was also willing to work hard to motivate individuals that many leaders would have discarded as useless or trouble makers.
"Shackleton made his men want to follow him; he did not force them to do so. In the process, he changed the way his crewmen saw themselves and the world. His work continued to inspire them for as long as they lived, and to inspire others around the world long after that. There is no greater tribute to a leader. His tools were humour, generosity, intelligence, strength, and compassion."
— Margot Morrell and Stephanie Capparell, Shackleton's Way

Many excellent books have been written about Shackleton and his expedition. Shackleton's Way is a must-read book for anyone hoping to emulate his leadership skills. Although the book was written for a business audience its lessons are both timeless and highly practical for anyone leading under stressful conditions. I also highly recommend Shackleton's own book South: The Last Antarctic Expedition Of Shackleton And The Endurance.
A knowledge of Shackleton expeditions and travels, most importantly with the Endurance is essential for anyone who plans to make a serious study of cold weather wilderness travel and the psychology of survival. Sir Ernest Shackleton was an Expedition Leader Far Ahead of his time.
Additional Resources
Article by

Bruce Zawalsky

(
5th November 2007

, Updated

11th March 2020

)
Chief Instructor of the

Boreal Wilderness Institute