A Canadian Wilderness Survival Book like No Other
What if you had to Survive?
"A spiritual sequel to Northern Bushcraft" — Mors L. Kochanski, Author of Northern Bushcraft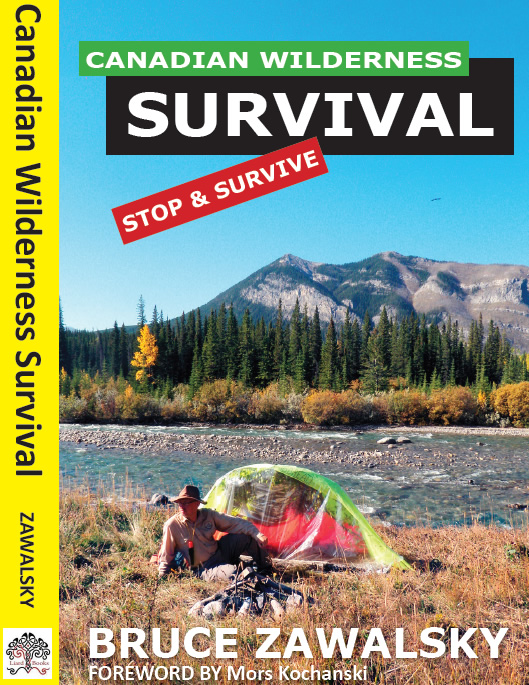 In Canada, the Wilderness is All Around Us: We Live in it, We Travel Through it, We Need to Learn to Survive in it. A Guide to Canadian Wilderness Survival answers the question, what if you had to survive being stranded in the Canadian wilderness? It teaches you how to survive comfortably in the northern forests by understanding the science of survival, controlling your fears and our often unrealistic expectations of life in the wilderness. This is the book you need to read before you accidently get stranded.
A Guide to Canadian Wilderness Survival is a 450 page full colour modern wilderness survival manual with over 500 pictures and illustrations. It is broken up into three parts: "Part1: The Science of Survival," "Part 2: Learning the Right Skills" and "Part 3: The Path to Survival." The Science of Survival is the first part of the book and it introduces you to the science of survival, covering the physiology and psychology of modern wilderness survival. Learning the Right Skills is the second part and it covers what critical items to wear and take into the northern forests, how to build fires, how to build shelters and how to get found. The Path to Survival is the third part and it deals with threats in the wilderness, how to prepare in advance to avoid or mitigate a survival situation and what we can learn from others' mistakes and successes when stranded in the wilderness.
"It deals with modern wilderness survival in an up-to-date, lively and easy to understand way." — Mors L. Kochanski, Author of Northern Bushcraft
"I spend many days alone each year in the Canadian wilderness while running my trapline. Often, I am many miles away from the comfort of my cabin and because of this I carry a survival backpack with me that I thought contained everything one could possibly need for a survival situation — boy, was I ever wrong! After reading Canadian Wilderness Survival, I have discarded items, added several new ones, and now feel much more comfortable with the knowledge gained from reading Bruce's book." — Rob Miskosky Publisher/Editor of Alberta Outdoorsmen Magazine
Have a Look Inside Canadian Wilderness Survival
Have a Look Inside Canadian Wilderness Survival
"I just received this book 2 weeks ago, and it's unlike any other survival book of which I know. I spent 17 years as a forester in Northern BC and Northern Alberta, and have received my share of bushcraft training. This book puts into words things that we've always done, but have never seen in print, along with great pictures. It answers questions that I've had for year…I'll be a better woodsman after reading this book. GET IT!" —Facebook Review
#1 Best Seller
Canadian Wilderness Survival made the Edmonton Nonfiction Bestseller List for 7 Weeks: #1 Bestseller November 12th, 2017, #4 Bestseller November 19th, 2017, #3 Bestseller November 26th, 2017, #2 Bestseller December 3rd, 2017, #1 Bestseller December 10th, 2017, #2 Bestseller December 18th, 2017 & #3 Bestseller January 14th, 2018.
"Picked up a copy a week ago. Great book Bruce! Subject matter was very well covered." — Jay Kilgannon, Bushcraft & Survival Instructor
Available from these Fine Book Sellers & Outdoor Stores
Online Sellers in Canada
Online Sellers in US
"With Bruce, students not only learn the how of survival but the why as well. His scientific approach to survival training is the best. If you are looking for real world modern survival skills that are both preventative and life-saving, look no further." — Dr. Marius Steyl, M.D.
Order a Signed First Edition
Regular Price: $32 CAD
Flat Rate Shipping:

Alberta (AB) $15 CAD
Elsewhere in Canada (CA) $18 CAD

ISBN: 978-1-894713-56-6
"Very detailed high quality survival manual. Talks about realistic survival techniques. Not like most of the fluff books out there. If you are into survival or camping outdoors in a northern climate you should look at this book." — Google Review