Get Certified in Survival & Navigation
The Wilderness Certificate Programme are for those Committed to Learning Real Wilderness Skills. BWI Offers 3 Certificates; the Survival Certificate, Navigation Certificate and the Wilderness Mastery Certification.
Survival Certificate
Master Modern Wilderness Survival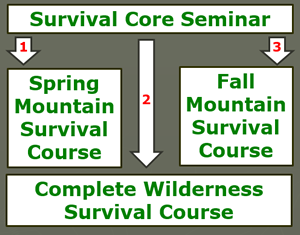 Earn your Wilderness Survival Certificate by taking this series of courses. It represents a level of commitment to the improvement and mastery of your modern wilderness survival skills. Learn your skills before you need them in the field in an Emergency. To Receive this Certificate you must take the Survival Core Seminar, read Canadian Wilderness Survival and take either the (1) Spring Mountain Survival Course, the (2) Complete Wilderness Survival Course or the (3) Fall Mountain Survival Course. Taking 2 of the 3 courses is highly recommended if you wish to become a Survival or Bushcraft Instructor. If you are planning to become a Survival or Bushcraft Instructor I also highly recommend that you go on our Winter Survival Trek.
Navigation Certificate
Master Wilderness Navigation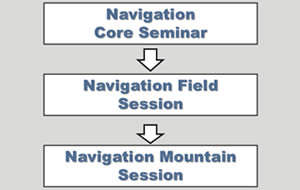 Earn your Wilderness Navigation Certificate in just 5-days. This Series of Courses represents a high level of mastery in wilderness navigation skills. Participants will achieve knowledge and confidence in Wilderness Navigation by repeated use of topographical maps, air photos, compass, altimeter, and GPS in various terrain. To Receive this Certificate you must complete 3 Courses; the Navigation Core Seminar, the Navigation Field Session, and the Navigation Mountain Session. The other option is to take all 3 Courses in 5-days by taking the Complete Wilderness Navigation Course.
Wilderness Mastery Certification
Outdoor Education Career Preparation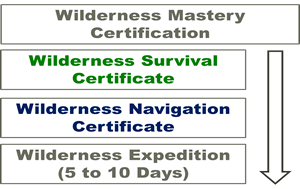 The Wilderness Mastery Certification is Designed to give Outdoor Leaders Certification in the Areas of Modern Wilderness Survival, Wilderness Navigation, and Wilderness Travel. The Wilderness Mastery Certificate represents a substantial achievement in the development of your Wilderness Skills. To receive this certification you must complete; BWI's Survival Certificate, BWI's Navigation Certificate, and a Wilderness Expedition of between 5-10 days. Many options are available for the completion of the Wilderness Expedition, although a proper log book and a leadership roll are required on the trip. In conjunction with this certification we provide a Wilderness Instructor Development Programme to further develop your outdoor training skills.