Best Navigation Training Available
"Skills gained gave me the confidence to go out to the backcountry alone…" — CWN Graduate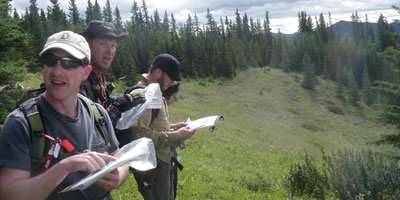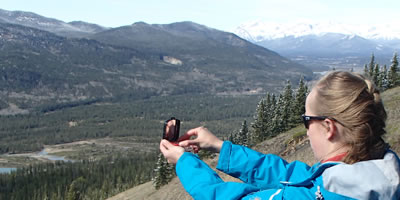 "…the skills taught progressively take you from knowing next to nothing to being confidant in wilderness navigation." — CWN Graduate
Complete Wilderness Navigation (CWN) allows you to Really Learn Hands-on Wilderness Route Finding in both Forests & Mountains. This one-of-a-kind Professionally Taught Wilderness Navigation Course covers the entire content of the Navigation Core Seminar, Navigation Field Session and Navigation Mountain Session all in 5 Exciting Days. BWI Keeps Classes Small, no more than 6 Participants so you can really learn and master wilderness navigation.
"Being in the mountains, Navigating with all the tools, the Night Navigation!" — CWN Graduate
Hands-on Map and Compass Skills
"No bullshit, straight goods – Practicality was quintessential!" — CWN Graduate
Complete Wilderness Navigation is a Hands-on Course that Teaches Topographical Map & Air Photos Interpretation, Magnetic Compass, GPS Receiver, Pace Bead & Altimeter Use. Course Covers Contour Interpretation, Route Planning, Wilderness Travel Skills, Latitude & Longitude, MGRS & UTM Grid References. Extensive Map and Compass Skills will be practiced including Declination, Inclination, Bearings, Back-bearings, Pacing and Resections.
"Skills learned from the course already helped during an ocean kayak trip. Could not have done it without them." — CWN Graduate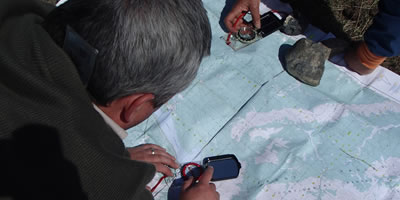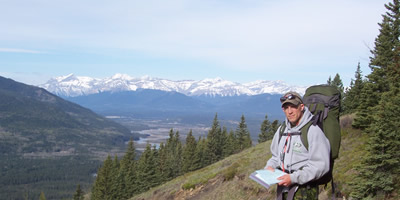 Emphasis throughout the course is on Wilderness Route Finding, Learning Topographical Interpretation, & Developing Safe Wilderness Travel Skills. The CWN also covers, GPS Programming, GPS Map Integration, Altimeters use, Clinometers use, Night Navigation Techniques and Natural Navigation.
"Take the Courses all at once." — CWN Graduate
Progressive Wilderness Route Finding
This Course allows you to Master Wilderness Route Finding quickly and easily on a 5-days World Class Professionally Run Training Course. During the CWN expect to Learn Constantly and Become Confident in Wilderness Navigation Participants while earning BWI's Navigation Certificate on successful completion. Bruce Zawalsky will be the Principle Instructor for this Course, ensuring a high level of professional instruction.
"Loved the Courses…" — CWN Graduate
Course Fine Print
Cost Includes

: Instruction, Pace-beads, Course Materials, Use of; Compass, GPS Receiver & Topographical Maps

NOT Provided

: Transportation, Accommodation, Food, Outdoor Gear & Outdoor Clothing
Please Read the Equipment List and Ask Questions before you arrive to Avoid Problems
In Edmonton on 1st & 2nd Nights you will need to Arrange Your Own Accommodation
In Nordegg on 3rd & 4th Nights the Instructional Staff will be Camping at Dry Haven Provincial Recreation Area and you are encouraged to camp at the same site (2021 Fee $24 per Night) or stay nearby at Shunda Creek Hostel or other Accommodation.
To keep overall cost down and our environmental impact low we Encourage Participant Car Pooling and will Help to Facilitate it on the 1st Day of the Course