Register Now
Survival Course with Real Life Solutions
"Great Info — Learned a lot about Fire Building & packing proper supplies" — SCS Participant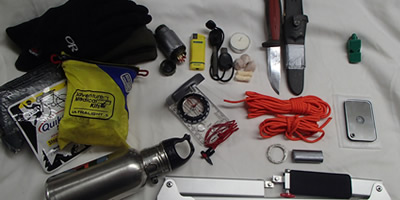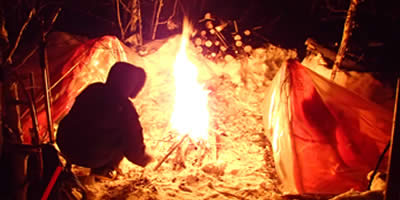 Survival Core Seminar is a Realistic Well-Researched Introduction to Modern Wilderness Survival. Providing the Information you need to live Comfortably when Stranded in the Canadian Wilderness in Winter or Summer. This Highly Practical 1-Day Survival Seminar is for anyone Working or Travelling through the Wilderness.
"…the Course was Excellent and the Instructor Very Knowledgeable." — SCS Participant
"I Like Learning the Practical Side of Survival i.e. Fire Making & Shelter Building Skills." — SCS Participant
Fire Lighting Demo & Critical Items
Practical Survival Techniques are Emphasized along with How-to Mentally prepare yourself for Surviving in the Wilderness. Topics Include; Introduction to Survival, Survival Physiology & Psychology, Clothing & Sleeping Bags, Fire Lighting, Shelter Building, Emergency Signals, Critical Survival Items, Preparing to Survive, & Learning from Others. Each Participant Receives a copy of Canadian Wilderness Survival by Bruce Zawalsky.
"It was very useful information and never boring. I will definitely implement several of the 'Survival Kits' into my work & recreational pursuits." — SCS Participant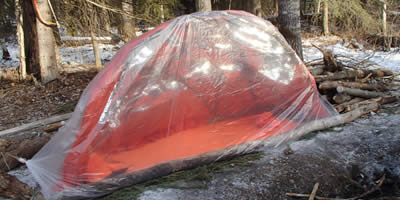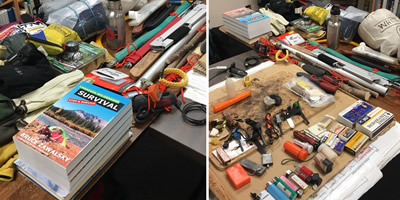 "The Knowledge and Energy of the Instructor. Real Life useful Tips." — SCS Participant
Worth the Time; Conducted in 1-Day
Reality is that Survival Training is Not Like Survival TV, it is something you can Easily Learn & Master. This Course is the basis of the Boreal Wilderness Institute's Wilderness Survival Programme. It is world-class training that provides the knowledge and confidence you need.
"A Very Good Detailed Overview without getting into the weeds in any area — Specifically Enjoyed the List of Critical Gear." — SCS Participant