Register Now
Training in Fire Lighting & Shelter Building
"I liked the practical shelter building and twig bundle collecting…" — SFS Participant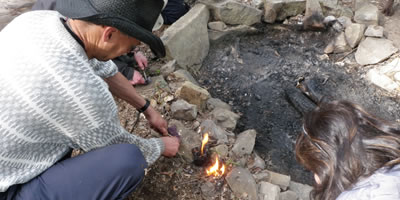 "I can't believe what I learned in one weekend." — SFS Participant
The Summer Field Session(SFS) takes you beyond the Classroom and into the Boreal Forest. The SFS gives you the chance to practice summer survival skills in relaxed hands-on learning atmosphere. This gives you the chance to practice the wilderness survival skills discussed in Survival Core Seminar. On this 1-Day course you will learn the essential survival techniques necessary to live comfortably in the forests of Canada.
"The sense of accomplishment in building a shelter and sleeping in it was so very good…" — SFS Participant
Practical Summer Survival Skills
During the Summer Field Session Fire Lighting practice will be extensive and emphasize will be on Lighting Fire with Natural Tinder and a Striker. Numerous skills and survival techniques will be taught throughout the course, including water purification and protection from insects. Participants will build an individual survival shelter. Participants will have the opportunity to build a Cooking Fire, use a Stick Burners, build various Survival Shelters, find, collect and Purify Water.
"Very Practical, Lots of Training, & Kept Busy." — SFS Participant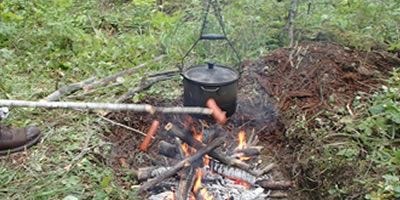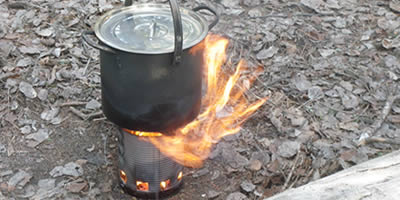 "…this is an Excellent Course to begin Wilderness Studies" — SFS Participant
Wilderness Field Session Skills
Knifecraft
Selecting a good Survival Knife
Basic Knife Handling
Survival Tools
Build & Use a Baton
Useful Knots
Water Purification
Finding & Collecting Water
Water Purification Methods
Fire Lighting
Finding Natural Tinder
Finding Natural Fire Lighting Aids
Fire Lighting with a Striker
Basic Twig Bundles
Getting a Fire Started
Keeping a Fire Burning
Selection of Proper Wood
Cooking with a Cooking Fire
Cooking with a Stick Burner
Shelter Building
Summer Survival Shelters
Improvised Shelters
Poncho Shelters
Build a Survival Shelter
Insect Resistant Summer Shelters
Boreal Forest
Trees of the Boreal Forest
Useful plants of the Summer Forest
Identification of Aspect / Slope
Survival Camp Locations
Individual Protection from Insects
"Fire Lighting & Shelter Building was Great, Thanks" — SFS Participant