Take Survival Training This Winter
"If you want Real applicable Survival Skills & No Survival TV Crap, Take this Course, it Might Save Your Life." — CWSC Graduate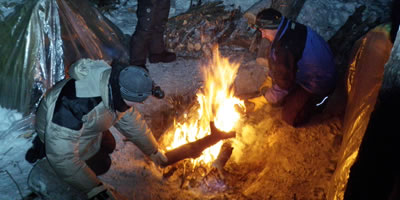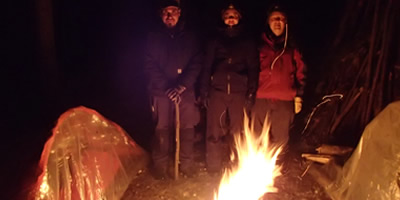 The Complete Wilderness Survival Course (CWS) is One-of-a-Kind, World Class, Professionally Taught Modern Winter Survival Course. This 5-day winter boreal survival course emphasizes extensive fire lighting and shelter building training. Knifecraft, proper survival tool use, dealing with the winter forest, useful winter forest resources, cooking fires and melting snow will be practiced and learnt. This is the survival course you need to gain solid confidence in modern wilderness survival techniques that can be used quickly anywhere in the Canadian wilderness.
"Practical, Effective, Hands-on Learning. Likely the best Outdoor Related Purchase I've Ever Made." — WFT Graduate
"Your Training has given me the Confidence to do a lot more in the Wilderness with a lot less. One of my long-time friends and back country partners paid me the ultimate complement the other year. He said that I am changed man in the backcountry and hell of a mountain man. This has a great deal to do with your ability to teach and the great course you put on and how it empowered me to think and do things differently in the Back Country."
— CWSC Graduate (Writing about his experience a few years later)
This course gives you the chance to develop and practice winter survival skills to a high level, it has a relaxed hands-on learning atmosphere. It will allow you to take on challenges of the Canadian wilderness in winter over multiple days and nights. Participants will have the opportunity to build at least five winter survival shelters and sleep in three or four different shelters. Learn to use various survival tools including using and sharpening scandi-bladed Survival Knife. Firecraft practice will be extensive and emphasis will be lighting fire with natural tinder and a striker.
On day four we will then leave our base camp by foot to build a new walkabout camp and spend the night in different terrain with minimal equipment. In this new area, we will see the differences due to location and forest aspect makes to camp selection. Here we will ensure you can survive and thrive if stranded. To register for this course, you need to complete the two-day Online Survival Core Seminar and read Canadian Wilderness Survival before the course starts.
Field Training Skills Covered
Knifecraft
Safely using a Survival Knife
Basic Knife Handling
Wood Splitting with a Survival Knife
Sharpening Board & Knife Sharpening
Building & Using Survival Tools
Build & Use a Baton
Build & Use Wooden Tools
Notches & Try Sticks
Useful Knots
Using a Bow Saw
Safe Falling of Deadfall Trees
Improvised Bindcrafting
Making Cordage
Building 15 Minute Snowshoes
Water Purification
Collecting and Melting Snow
Fire Lighting
Proper use of Lighter and Matches
Using Artificial and Natural Tinder
Finding Natural Fire Lighting Aids
Extensive Fire Lighting with a Striker
Standard and Survival Twig Bundles
Getting a Fire Started
No-Evergreen Fire Lighting
Fire Management
Keeping a Fire Burning
Selection of Proper Fire Wood
Overnight Fire Management Skills
Coal Management
Restarting a Fire
Shelter Building
Single & Double Super Shelters
Various Lean-to Shelters
Various Improvised Shelters
Building a 4-Finger Bough Bed
Building Wall & Roofs using Natural Material
Build various Survival Shelters
Signalling for Help
Signal Fire Twig Bundles
Building & Lighting a Signal Fire
Building Ground-to-Air Signals
Using a Signal Mirror
Using a Whistle for Signalling
Safe use of Flares
Using Modern Signalling Devices in the wilderness correctly
Winter Camping Skills
Packing for Hiking & Survival
Survival Camp Locations in the Boreal Forest
Safe Winter Travel
Safe Ice Crossing
Build a Walking Staff
Setting up a Guyline
Building Cooking Cranes
Cooking over a Fire
Cooking with a Wood Stove
The Winter Boreal Forest
Trees of the Winter Boreal Forest
Useful plants of the Winter Forest
Safe Winter Survival Camp Locations
Use and Identification of Aspect/Slope
Safe Travel through the Winter Forest
"Instructor is great, very good way to take the skills learned and apply them." — WFT Graduate
Complete Survival Course Fine Print
Cost Includes

: Instruction, Course Materials; a Survival Knife, Fire Lighting Kit and the use of various materials, shelters, tools and cooking pots during the course.

NOT Provided

: Transportation, Food, Personal Gear, Winter Boots and Clothing.
Please Ask Questions before you arrive to Avoid Problems.
Day 1 starts in the Boreal Forest South Central Alberta and we are out in the forest until Day 5.
Locations Change Yearly and vary depending on Snow Conditions, Road Conditions, Weather, Location Availability, and Fire Bans, etc.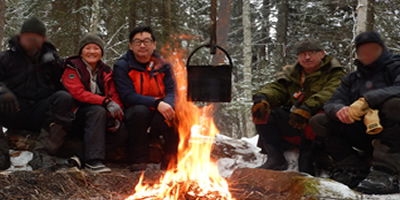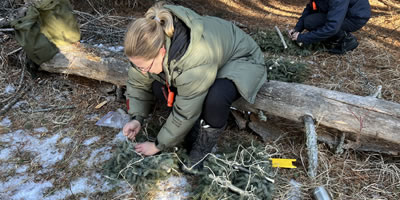 "Course was a Wonderful Learning Experience with Knowledgeable Instructors, which allowed lots of time to Actually Practice the Skills we were Learning." — CWSC Graduate