"As protection against the weather of their various seasons, the Eskimos have developed on the whole better garments than probably any people in history."
— Vilhjalmur Stefansson (Arctic Manual, 1945)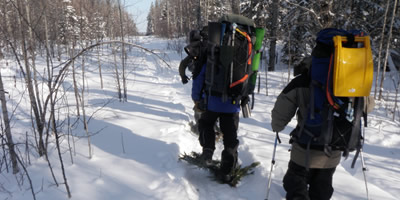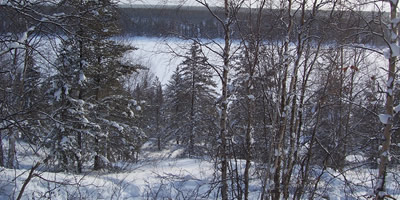 Cold Weather Research Resources
There are numerous research centers and universities world wide studying cold weather survival and cold weather travel. Cold weather survival is closely tied into both clothing design, cold weather engineering, and the cold weather injury research. Any individual who wants to travel safely into the wilderness in cold weather should have a solid grasp on these subjects.
Cold Injury Information and Treatment Resources
Those who travel in the cold should have an excellent knowledge of cold weather injuries. Everyone should have a basis knowledge of cold weather injury prevention and any guide, instructor, or group leader a Wilderness First Aid Course.
Notable Canadian Northern Research Centres
Research Centres are mostly small, with little of no public access. Most of the Research done into our Wilderness is conducted by Universities. Forest Research is centered on Fire Suppression and Forestry. It makes interesting reading, but often needs to be interpreted backwards to be useful for someone wanting to collect dead wood and burn wood it in a campfire setup. Research into Wilderness Survival seems to be conducted only into Physiology, Clothing Technology or Primitive Shelters and is very limited.
Canadian Avalanche Awareness Resources
Every Winter 12 People are Killed by Avalanches in Canada's Mountains. Avalanche Awareness is a Must for Safe Winter Travel in any of our Mountain Ranges. Backcountry winter travel requires Avalanche Awareness training, diligence, and practice. To Safely Travel through Avalanche Country you need an understanding of the Snowpack, Route Finding, what to do if you get Caught in a Snow Avalanche, what to do if you get Buried by a Snow Avalanche, and How-to Quickly and Efficiently Search for Victims of an Avalanche.