Survival Kit Built into a Lifejacket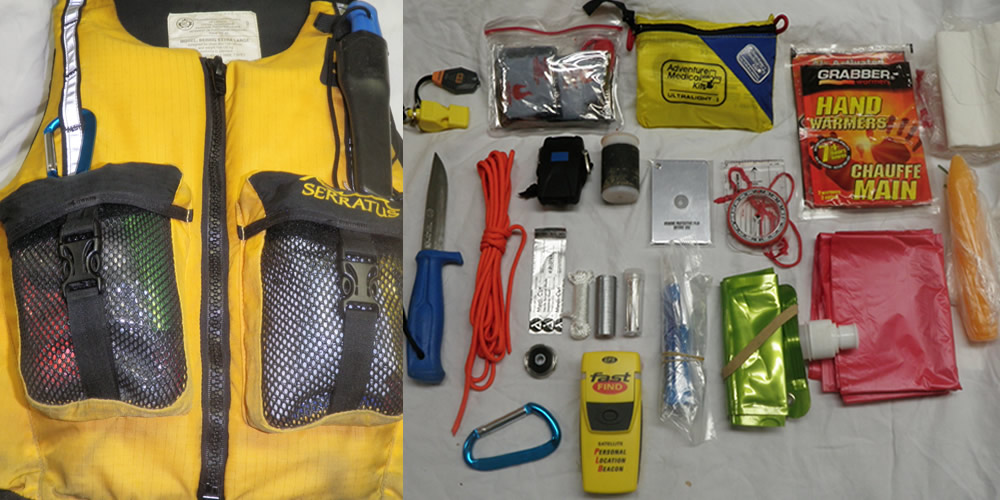 Picture yourself Standing on the Side of a Wilderness River or Lake: Cold, Wet, likely Hypothermic, and possibly Injured; you have a Real Challenge Ahead. A Wilderness Survival Situation after abandoning or losing your small boat or watercraft can be very dangerous. When Canoeing, Kayaking, Sailing, or in a Motor Boat the danger of Capsizing or Losing your Boat is always present in any waterway. With this scenario in mind, I have always carried Critical Survival Items in my Life Jacket. This upgrade to the kit was prepared for my annual fall canoe trip. I think it is useful to see what I carry and why I choose each item.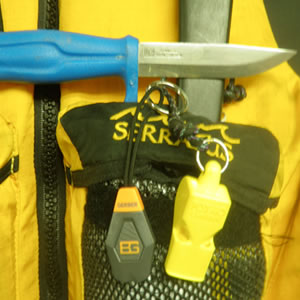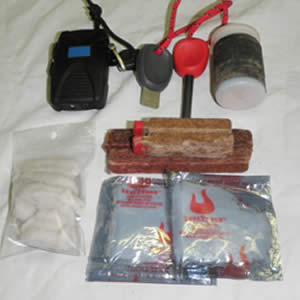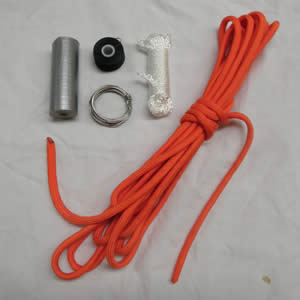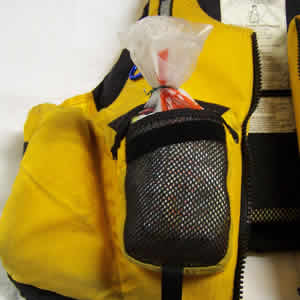 I needed to ensure that the Lifejacket (BERING by MEC) contained at least the Top Eight Critical Items and was heavy in Fire Lighting equipment. I set 8 Priorities for this Survival Kit; Warmth, Fire Lighting, Survival Knife, First Aid, Signaling, Water Purification, Shelter, and finally Travel. The Survival Items need to be contained/stuffed into the two small pockets included in my lifejacket or attached securely. I needed to ensure that all items are Waterproofed and able to be used in a moist environment. Every item in such a Small Survival Kit is a Compromise and certainly, other alternatives are available to nearly every item taken.
Survival Kit Breakdown and Explanation
Kit Priority #1: Warmth
Handwarmers (3)
Three Chemical Handwarmers will allow me to get circulation back into my hands if I am Hypothermic and unable to initially light a fire after swimming ashore. I used to carry two small ones, but this time I added a larger Heat Pack, just in case. Simple, but a Real Life Saver.
Kit Priority #2: Fire Lighting

Waterproof Refillable Lighter
I use a Lighter as my Primary Fire Lighting Tool. This saves Matches for poor conditions and means I will only use Matches when the lighter fails. Yes, it will fail, but on nice days it will work fine. I leave the lighter, which is fully Waterproof outside the main plastic bag for quick access.

Strike Anywhere Matches in a Waterproof Container
These are full-size Strike Anywhere Matches cut short and placed in a film container. I glued a piece of sandpaper to the outside and included a small piece inside to ensure a striking surface is always dry and available.

Striker
A good quality Striker, in this case, a FireSteel 2 Scout Model made in Sweden and sold under the brand name Light My Fire. If my Lighter and Matches both fail I can always fal back on the Striker.

Fire Lighting Aids
In addition to 3 Fire Lighting Tools (i.e. Matches, Lighter, and a Striker) I packed in 5 Pieces of Tinder (Wax, Kerosene & Cotton) sealed in a small bag, 4 pieces of Chip Fire Starter, 2 packets of Chemical Fire Starter, and a Candle. I have a lot of Fire Lighting Aids here and don't consider it overkill. I assume when I need it I will be Hypothermic and everything will be very wet and the extra items will suddenly be well worth the extra space and weight.
Kit Priority #3: Survival Knife

Stainless Steel Mora Knife
I always carry a good quality survival knife. My first choice would be a Carbon Steel Mora Knife, but due to the wet environment, I have substituted the stainless steel version. Yes, it is harder to sharpen and keeps its edge for less time, that is one of the compromises I had to consider when putting a kit together that will get wet and need to last well in a moist environment. I always have my regular Mora Knife for work onshore in my Olive Jar.
Kit Priority #4: First Aid

Personal First Aid Kit
A good Personal First Aid Kit can make all the difference in a medical emergency. Although I carry a large first aid kit on any canoe trip, it is in my Olive Jar. The pockets were too small to carry a larger kit, so I compromised by putting in an Ultralight .3 First Aid Kit from Adventure Medical Kits with a few extra items. I added 2 pieces of Sterile Gauze, 2 packets of Double Antibiotic Ointment, 2 packets of Antiseptic Towelettes, and a pair of gloves. I wish I could carry a decent Field Dressing, but there was no room for it in or on the Lifejacket.
Kit Priority #5: Signalling

Plastic Pealess Whistle & Flashlight
This excellent Fox40 Whistle and its lanyard came with the Lifejacket. I used the lanyard to clip on a small LED Flashlight as well. This Flashlight is fairly powerful for its size and has a flashing mode if need as a night signal.

Signal Mirror
A Plastic Signal Mirror packed into my First Aid Kit. A signal Mirror is an Excellent Critical Survival Item. Glass Signal Mirrors are much Better, but this one is lighter and I had it handy when I was rebuilding this Kit.
SARSAT PLB
This time I decided to pack in a SARSAT Personal Locator Beacon (PLB) into my lifejacket. I choose a small inexpensive model that could be easily fit into one of the already overstuffed pockets. This one is a Fastfind by McMurdo.
Kit Priority #6: Water

Emergency Water Purification System
Water if a Priority of Survival and I believe it is worth the extra weight and room to take along a purification system. I have now put in a basic Emergency Water Purification System. I choose a Pristine Pioneer Drinking Straw system. It is lightweight and very compact but will work for at least a week if needed. It can filter up to 75L of water.

500ml Water Bottle
A 500ml thin aluminum collapsible Water Bottle that I can use with my Purification System to Keep Hydrated.
Kit Priority #7: Shelter

Garbage Bags (2)
Basic shelter, poor rain gear, an emergency signal, a couple of garbage bags allow a few options not available to you without it and it is a very light addition to the kit. Do not underestimate simple basic gear like this, it is light and can be very useful in a pinch.

Binding Material
I packed in a 3m Long Section of good Nylon Cord. Normally 2m works for most uses if you carry 2 sections of cord it would be better. I supplemented it with a piece of smaller diameter Cord, some Fishing Line, a small piece of Wire and a Roll of Duct Tape. I also attached a small Carabiner of the Lifejacket just in case it would be needed.
Kit Priority #8: Travel

Magnetic Compass
A Magnetic Compass is an important Critical Survival Item. Most of the areas I now canoe in are Boreal Shield and walking out would be next to impossible. That makes a compass a lower priority. I choose a light well made Brunton Type 7. When canoeing I have a Brunton Type 15 open in my Map Case so I always know where north is and what direction I am travelling. That compass may not be available when I have been separated from my canoe.
Miscellaneous

Other Items
I slipped in a few extra items including a small roll of Toilet Paper, 4 Safety Pins and a Fishing Kit. I harbour no illusions that I can catch any fish with such a poor Fishing Kit, but since I had it and I will be trapped beside Water it will keep me busy during the day hoping to catch fish for dinner.
Critical Items Not Include in the Kit
I left out several very useful items. Mostly they were left out because they could not fit into the two pockets. Some gear was inappropriate because it would be carried elsewhere in my Canoe. Duplication of survival equipment means that you end up carrying to much extra gear and never using it. Completely missing is any Clothing, a Bowsaw, a Cooking Pot, and a good Shelter. The item that I miss the most is High Energy Snack Food. I used to take a few Bars (Roughly 500 KCal) along for Quick Energy at the start of a Survival Situation, but I had a rodent eat a hole in my last lifejacket one night and since then have removed any type of food from my lifejacket.
Carry or Not To Carry?
I hope this Breakdown on What Critical Survival Items I Carry in My Lifejacket Survival Kit is helpful when you decide what you Should Carry. This Survival Kit is the 4th Revision of this Kit over the last 10 Years. Remember that this equipment is in addition to what I carry in my Waterproof Pack and Olive Jar. Before you make your Lifejacket Survival Kit consider this scenario. You are Standing Alone on the side of a Wilderness River or Lake: Cold, Wet, likely Hypothermic and possibly Injured. Are you prepared to face that Challenge?
Additional Resources
Article by

Bruce Zawalsky

(
19th September 2008

, Updated

17th January 2020

)
Chief Instructor of the

Boreal Wilderness Institute