Gear Needed for Fire, Shelter & Water?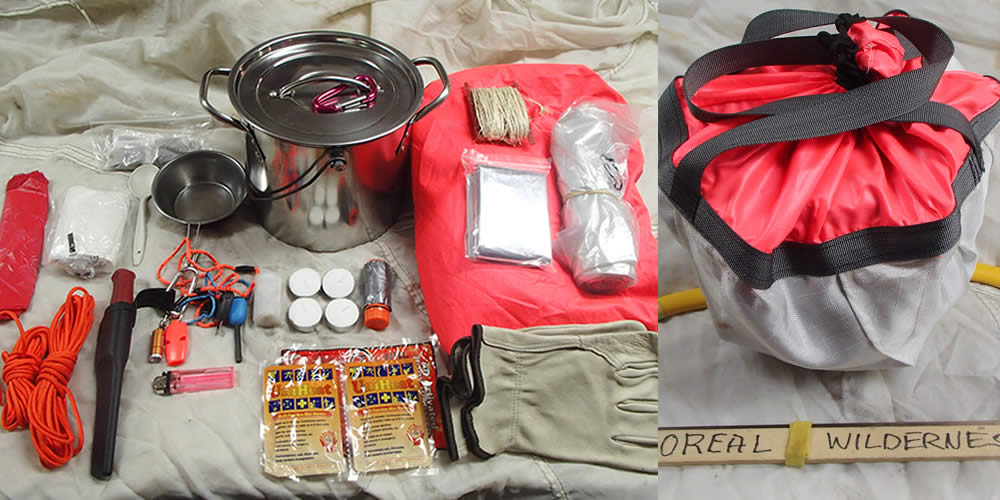 Picture Yourself in a Cold Winter Forest, Stranded; its Frigidly Cold, Snowing Heavily and You Cannot See More than 50m. This Survival Kit is based around this likely Winter Scenario. You are out Snow Shoeing, Quading or Snowmobiling and Darkness, Heavy Snow or Whiteout Causes you to get Stranded. You have a First Aid Kit, Toque, Gloves, Bow Saw, and this Survival Kit. This means you are well equipped, you have the Top 10 Critical Items plus an Excellent Shelter. Taking this Cooking Pot Full of Critical Items all the time when you Travel in the Winter Wilderness can make a huge difference in any Survival Situation.
This Small Cooking Pot needed to contained the Critical Items not already in the your Personal Gear and was Heavy in Fire Lighting Equipment. Remember that Redundant & Robust Fire Lighting Gear will allow you to Light a Fire in Very Poor Conditions. I set 6 Priorities for this Survival Kit; Warmth, Fire Lighting, Survival Knife, Signaling, Shelter, and Water. The Survival Items are all stored in the Cooking Pot and are ready to be used quickly in a survival situation. The one extra item that is required to be carried elsewhere is a 50cm Bow Saw. Remember that every item in a Small Survival Kit is a Compromise.
Cooking Pot Survival Kit Breakdown and Explanation
Kit Priority #1: Warmth
Handwarmers
3 Chemical Handwarmers will allow me to get circulation back into my hands if I am Hypothermic and unable to initially light a fire. Do not under estimate the need to get circulation and dexterity back in your hands in a survival situation. When things go badly it is often because you cannot get enough dexterity back in your hands to collect wood and light a fire.
Kit Priority #2: Fire Lighting

Lighter
This as my Primary Fire Lighting Tool, this saves My Matches for Poor Conditions. Yes a Lighter will eventually ALWAYS FAIL, but it will produce Quick Fire most of the time. These types of Disposable Pocket Lighters have a very adjustable flame and I keep it right on top of the pot just incase I need it quickly. To ensure my Fire Lighting Gear is Redundant & Robust I always carry three means to start a fire and a Pocket Lighter is one of these.

Strike Anywhere Matches in a Waterproof Container
25 Full Size Strike Anywhere Matches in a proper Waterproof Match Container. I glued a piece of sand paper to the top of the lid to ensure that I can always light the matches and place one piece of Tinder on top of the Matches to stop them from accidently striking the lid. I also wrapped a piece of duct tape around the container so I have a piece handy for repairs.

Striker
Good Quality Striker, a FireSteel made in Sweden and sold under the brand name Light My Fire. If my Matches Fail I can always Fallback on the Striker. This is my third means to Light a Fire. It will give me Hundreds of Fires if Necessary. In this case I choose a full size Striker of the best quality available. I do not like to take chances with cheap alternatives and the sharpened steel piece of this model is excellent at producing lots of Sparks.

Fire Lighting Aids
In addition to 3 Fire Lighting Tools (i.e. Matches, Lighter, and a Striker) I packed in 7 Pieces of Tinder (Wax, Kerosene & Cotton). 6 Tinder pieces are packed into a Film Container and 1 in the top of the Match Container to reduced the chances of the Matches Striking by accident. In addition to the Tinder I packed in 1 pieces of Chip Fire Starter and 4 Tea Light Candles as additional Fire Lighting Aids for poor conditions.
Kit Priority #3: Survival Knife

Carbon Steel Mora Knife
I always carry a Good Quality Survival Knife. This is my first choice, a Carbon Steel Mora Knife. The Strong Plastic Locking Sheath has a string which I can have attached a small carabiner, a Flashlight, Whistle, and Striker. This can be worn around my neck in a Survival Situation.
Kit Priority #4: Signalling

Plastic Pealess Whistle & Flashlight
This excellent Fox40 Whistle and its lanyard came with the Lifejacket. I used the lanyard to clip on a small LED Flashlight as well. This Flashlight is fairly powerful for its size if it is needed as a night signal. Both are attached to the Survival Knifes Lanyard via the Carabiner. Yes it is always better to carry a Head Lamp, so carry one in your Daypack where it is handy al the time.
Kit Priority #5: Water

7.5 Litre Cooking Pot
A 7.5 Litre (8 US Quarts) Wide Mouth Stainless Steel Cooking Pot. This allow me to both Boil Water and Melt Snow. Its real capacity is about 6 Litres. This means I can melt Snow and Boil Water in large quantities each day very easily. I rigged the top of the Pot with a Study Bail. Its worth the time to make a bail yourself before you go using strong wire and attaching it with screws. This pot was bought at a discount store and is just a basic Stainless Steel Stewing Pot. No need to go to the Outdoor Store and pay extra for a lesser quality item. I included a Light-Weight Sierra Cup and Garbage Bag to allow me to Drink Easily and Collect Snow.

Binding Material
I packed two Sections of good Nylon Cord. 1 of 3m and the other of 6m. The 6m Section is for the cooking crane system and the other for general use. I supplemented it with a piece of Wire large enough to be used as the Upper Connection for using the Pot to Boil Water. As well the Super Shelter has a large section of light weight Binder Twine.
Kit Priority #6: Shelter

Single Person Super Shelter
A Complete Single-Person Super Shelter. The Single-Person Super Shelter is the best Shelter I have ever used in the Boreal Forest. Personally I have used the Single Super Shelter without a Sleeping Bag at -46c and inside it was too warm to wear my coat. This Shelter used the laws of physics instead of fighting them. The Super Shelter breathes out the back due to the nylon/parachute. It means all the Sweat that build up during the day is forced out the back by the heat of the fire and fresh air come in without smoke. In the Morning you are Dry and have Slept Well. During the Night you can also dry toques, gloves, and socks in the Sapling Frame Rafters. The Parachute Stops 80% of Direct Rain and all the Snow. The Plastic in the front stops all Sparks and Smoke, meaning you can have a Bigger Fire that can Burn Longer and Hotter. The Plastic Wraps over the Top of the Shelter so it is Weather Proof and Tied High Enough off the Ground to ensure Breathability. Sealing the Plastic on the Front is the Key to this Shelter. The Mylar Blanket increases the effectiveness of the shelter by reflecting light and IR Heat back towards the occupant. This means you are Warmer and can even Read or Write Comfortably in the Shelter by Fire Light. For more information on this excellent shelter see the Super Shelter Material Required or my Upcoming Book Canadian Wilderness Survival.
Miscellaneous

Leather Gloves
Good Quality Leather Gloves means that you can work with the fire and collect wood without damaging your Warm Insulated Gloves or Mitts. Most modern gloves and mitts are made of plastic and are Not Fire Friendly or Damage Resistant. Good Quality Leather Gloves are both and Saves your warm gloves and mitts for when you need them. They ensure you get more work done, suffer less injuries, and damage your clothing less while collecting wood, building your shelter, and lighting your fire.

Other Items
I slipped in 6 Tea Bags, Plastic Spoon, Toilet Paper, and a plastic bag to store the smaller items in when the Pot is in use. Most Survival Situations are Short-Term (1-4 Days) so the Tea Bags will be a nice Morale Builder during the first couple of days. I can sit back and relax infront of my Fire and make Tea. This will help to make any Survival Survival simply a Minimal Gear Camping Trip without Food.
Critical Items Not Include in the Kit
A Small Survival Kit has no choice but leave out a number of useful items. Some were left out because they could not be fit into the Cooking Pot. Other items like a First Aid Kit or Compass are separate items and should be carried where they are can be used easily at anytime. Duplication of survival equipment means that you end up carrying either to much extra gear and or leaving it all behind as it gets to heavy. Completely missing is any Clothing, Bowsaw, First Aid Kit, and Compass. Normally I take 2 Eat More Chocolate Bars (roughly 500 KCal) along for quick energy at the start of a Survival Situation. They need to be stored in a plastic bag and used or replaced on a regular basis.
When and Where To Carry the Kit?

The Kit is 1.8kg or 4lbs and is all contained within the Pot, which is a fairly Damage Resistant Container. I added a water proof garbage bag as a liner inside the Nylon Carrying Bag. It can be carried in any other carrying bag or case you might be travelling in the wilderness with.
This Survival Kit has what you need to Survive Cold Winter Weather with ease. It contains many useful Critical Items for travelling in the Winter Wilderness. Prepare Yourself Better to face the Challenges of being Stranded in the Wilderness, Carry the Right Critical Items on Every Trip!
Additional Resources
Article by

Bruce Zawalsky

(
7th March 2014

)
Chief Instructor of the

Boreal Wilderness Institute