What you Carry Around your Neck can Save your Life?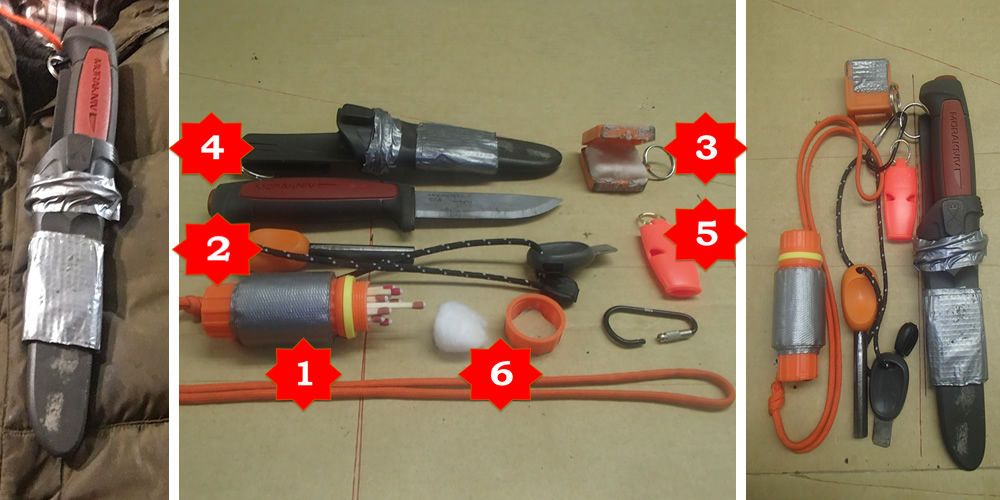 Picture Yourself Stranded Alone Somewhere on a Mountain Trail or Cutline. What if you had to Survive? The Survival Kit on a String is designed to be carried everywhere you go in the Wilderness around your neck. It is the 24-Hour a Day 7-Days a Week Survival Kit. Always Taking Critical Items can make a Survival Situation Easy instead of Tough. A few well chosen items can make a real difference. It is useful to see What I Choose to Carry around my Neck and Why I Choose these Particular Items.
Survival Kit Breakdown and Explanation
Kit Priority #1: Fire Lighting
Strike Anywhere Matches in a Waterproof Container (1)


20-25 Full Size Strike Anywhere Matches in a proper Waterproof Match Container. The first thing I now do with these Match Containers is to replace the O-Ring with a Silicone Hose Washer made for garden hoses, these are thicker, made with silicone and designed to work in cold wet conditions. I also put a piece of rough sand paper into the top of the lid to ensure that I can always light the matches. I placed one piece of tinder on top of the matches to stop them from accidently striking the lid, in this case it is a Cotton Ball (6). I also wrapped a piece of Duct Tape around the Container so I have a piece handy for repairs. This is a fantastic place to store duct tape, just ensure you use it on a regular basis and replace when it is running low.
Striker (2)

Good Quality Striker, a FireSteel made in Sweden and sold under the brand name Light My Fire. If my Matches Fail I can always Fallback on the Striker. This will give me Hundreds of Fires if Necessary. In this case I choose a full size Striker of the best quality available. I do not like to take chances with cheap alternatives and the sharpened steel piece of this model is excellent at producing lots of sparks.
Fire Lighting Aids (3)

4 Pieces of Tinder (Cotton Balls, Wax and Kerosene) are packed into an old Ear Plug Container and 1 extra in the top of the Match Container to reduced the chances of the Matches Striking by accident (6). Space is limited so I take the best Tinder available. You will never know the conditions you might get, so having good quality Tinder just makes sense.
Kit Priority #2: Survival Knife
Carbon Steel ProC MoraKniv (4)

I always carry a Good Quality Survival Knife. My first choice is a Carbon Steel Mora Knife. In this case I an carrying my favorite Morakniv, a ProC. Its slightly extra weight makes this knife more useful and resistant to damage in the field. I also attached a piece of duct tape around the sheath so I have some more readily available duct tape and 1m of light wire is wrapped around the sheath and secured with a small piece of duct tape. Do Not Take Chances with a Poor Quality Survival Knife. Always choose a razor sharp, flat topped, sturdy Survival Knife.
Kit Priority #3: Signalling
Plastic Pealess Whistle (5)

This excellent Fox40 Whistle is lightweight and is of a flat design that rides much better under my shirt. It is not as good as a full sized whistle, but it is still the best lightweight signalling device available.
Critical Items Not Include in the Kit
A Survival Kit this small has no choice but leave out many useful items. There is a physical limit as to how many items you can comfortably carry around your neck. This version has only three of the top 8 Critical Survival Items, but they are of the best quality and are always there for you if you carry it. This does not mean that this is all I carry, but I always have these items with me.
When and Where To Carry the Kit?
The Entire Small Survival Kit Hangs Nicely Around the Neck. All its Components except the Knife and Whistle will Hang nicely under the Shirt or Jacket. You will find that you quickly get use to carrying it there and the knife is very handy. Carrying your Survival Knife around your neck also means that you are less likely to loose it. Since whenever it is not in use you need to simply place it back in the Locking Sheath provided with the Knife. I update this Kit from Time-to-Time and this is one I redid in January of 2019.
Additional Resources
Article by

Bruce Zawalsky

(
2nd October 2013

, Updated

4th February 2019

)
Chief Instructor of the

Boreal Wilderness Institute